There is much more than the Astronomical Clock!
The heart of Prague is the Old Town (Staré Město in Czech), the perfect spot to start exploring its hidden alleys. A rising monument of Jan Hus who is considered the first Church reformer, overlooks the building that tells us the stories from city's past. There is the Týn Church, resembling to some of us Disney's Castle with its two Gothic towers and golden statue of smiling Virgin Mary between them. Would you believe that this church is the place where one of our kings wished to burry his heart, while the rest of the body lies in Prague Castle? He wanted to be as close to his people as possible.
The most famous place is Old Town Hall and its Astronomical Clock (or as we call it in Czech "Orloj").Thousands of people arrive here on every hour to see the procession of the Apostles, that famous show of Prague. The clock tells the time for more than 600 years.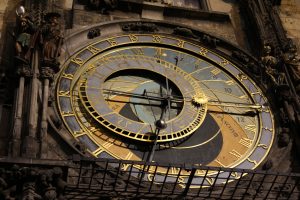 The hidden small streets of Old Town takes you back to medieval times, when carriages strolled through tiny streets, merchants sold their products from all part of the world and taverns welcomed locals after a day of hard work. Turning right the corner is the Rotunda of Holy Cross, standing there for last 900 years, Bethlehem Chapel where Jan Hus preached to people about changes in the Church, Powder Tower or even that cute smiling little ghost. Do not you believe? 🙂